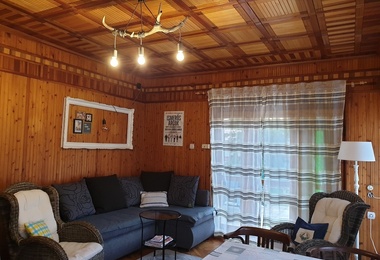 Our Titi Verde Alpi Apartment with its greenish stone walls and internal wooden wall covering offers the ambience of Alpine houses. With its 50sqm ground floor and the loft area and can provide up to 4+1 people with comfortable relaxation. In case you wish to experience the peaceful feeling offered by the Alps with your family, your partner or even by yourself, our Titi Verde Apartment is the best choice.
Our guests suffering from asthma or other respiratory illnesses can use the salt room in the attic of the house free of charge, which can even function as an exciting sleeping area.
The individual building is located at 4 Juharfa Lane, Bükfürdő, 300 meters from the Bath entrance, adjacent to our Őri and Őri Deluxe Apartments.
The atmospheric Titi Verde Alpi Apartment features:
Downstairs:
the beautiful living room with wooden inlay ceiling, which is the pride of the house, includes:
* fold-out corner sofa convertible into a 120*200cm bed, comfortable for one adult or two children to sleep on * LED TV * dining room set * chest of drawers * mirror * hallway clothes rack * coffee tables
* fridge * gas cooker and oven * microwave oven * kettle * coffee and tea maker, cooking, baking and serving dishes
bathroom with a shower and a toilet
Large shady terrace with garden furniture
Upstairs:
* 1 double bed * 2 single beds * wardrobe * chest of drawers * rocking chair
Balcony: with outdoor furniture

In the attic:
Salt therapy bedroom for 2 people: * 2 single mattresses * 1 beanbag armchair * 750 kg salt barley and Himalayan salt bricks
Our bicycles can be used free of charge upon request. Barbecue facilities in the garden and free parking in the courtyard. Wi-Fi accessible in the entire building.
In winter, our Titi Verde Alpi Apartment is heated with the gas-burning tile stove in the living room. In summer, the air conditioner guarantees your fresh Alpine air.